Dr. Lewis E. Johnson Recognized in PSBJ's 40 Under 40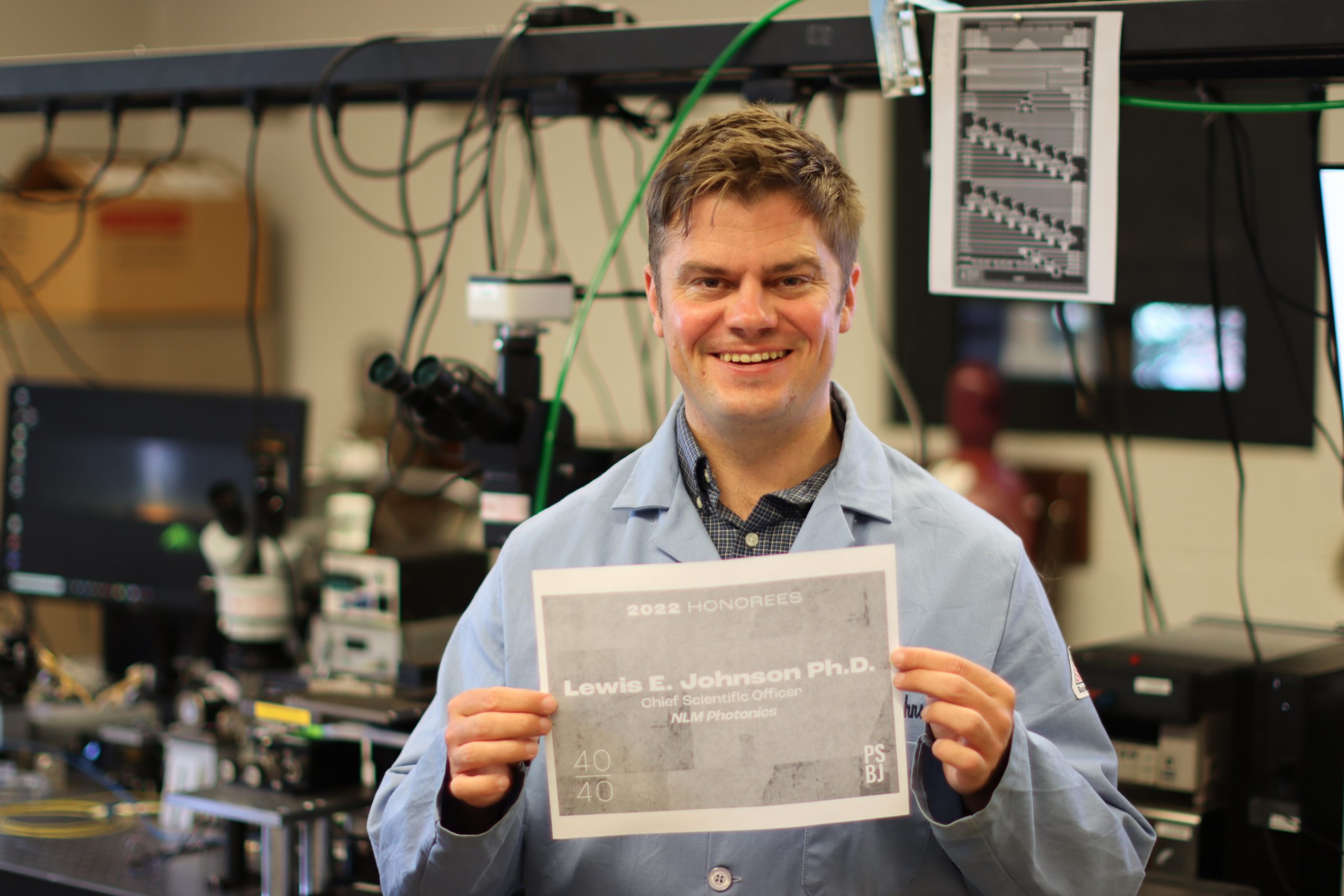 Congratulations to our Chief Scientific Officer, Dr. Lewis E. Johnson, on being a Puget Sound Business Journal (PSBJ) 40 Under 40 honoree for 2022!
PSBJ's 40 Under 40 highlights people who've made significant strides in their careers and showcased a strong sense of civic duty while actively contributing to their communities in the Puget Sound region. Lewis will be featured in PSBJ's upcoming publication and honored at their event on September 22.
Dr. Lewis E. Johnson is a scientist, entrepreneur, and life-long Seattleite. With a passion for making a better future, he's devoted himself to research experience in nanotechnology, computational chemistry, and materials design for cleantech applications.
As co-founder and Chief Scientific Officer of the Seattle-based NLM Photonics, he strives to lower energy consumption and improve the performance of communications and computing hardware through efficient conversion of electrical and optical signals, whether in fiber optics or technology like quantum computing, mmWave wireless, or LIDAR.
In the last four years under Lewis' leadership, he and his colleagues have solved several key problems related to materials for efficient electro-optic (EO) conversion. This has led to record performance and initial commercial devices based on cutting-edge technology pioneered at the University of Washington (UW).
Lewis attended the Northwest School for high school and Pomona College as an undergraduate. He continues to speak at alum events and mentor high school and college-level interns in photonics. He graduated from UW with a dual Ph.D. in Chemistry and Nanotechnology.
Believing in the power of science communication, Lewis regularly connects with partners and investors and speaks at events. His ability to dive into rigorous scientific truth and break down concepts for a wide variety of audiences makes him an essential evangelist for cutting-edge technologies such as photonics.
Lewis has published over 38 peer-reviewed papers, secured two patents (more pending), co-authored the textbook Understanding Nanomaterials with Prof. Malkiat Johal at Pomona College, and given numerous presentations, including being a frequent presenter at conferences hosted by SPIE or the American Chemical Society. He also continues part-time as a Research Scientist at the UW Dept of Chemistry, bridging academic research and the private sector.
Outside of science, Lewis has practiced Shotokan Karate for over a decade; he holds a 2nd-degree black belt and teaches through a local community center program. He has been active in habitat restoration with several local organizations for many years and volunteered at local vaccination clinics during the pandemic. He is also a photographer whose work has been featured in the Seattle Times.
We're so proud of Lewis and honored to have him and his work celebrated by PSBJ.